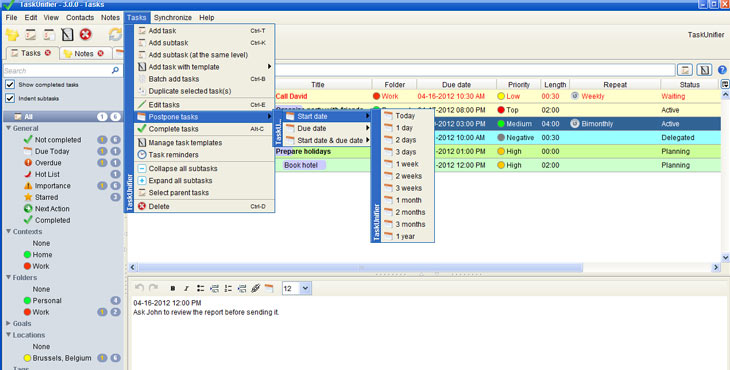 TaskUnifier: A Great Software- And Web-Based Solution For Task Management
Finding a solution for organizing and recording tasks is, needless to say, a challenge for those to whom the multitude of task management software on the market is unfamiliar territory. There are countless free options out there – Remember The Milk, Hitask, Producteev, Google Tasks, Todoist, to name a few of the more popular ones – as well as many paid tools, such as Microsoft Project and VIP Task Manager. How do you decide which solution to go with? In short, there is no easy answer, and it depends greatly on the needs and budget of your company. However, with careful consideration of what you require of task management software and with a small degree of resourcefulness, you can make an excellent choice from among the tools available on the market.
In the case of Belize IM, we desired something with a simple interface, preferably reminiscent of the look and feel of a spreadsheet.  After quite a deal of searching, reading review after review of both software-based and web-based solutions, and poring over blog posts by techies sharing their experiences with different task management tools, we finally stumbled upon TaskUnifier, an open-source, feature-packed piece of software that did all of the things we were looking for. With this program we were able to:
Enter tasks rapidly and see them in tree view
Include completion statuses, priority levels, start and due dates, reminders, notes, attachments, hyperlinks, and we could specify which members of our team tasks were assigned to
Organize tasks by client
Filter and search tasks using any of the fields that we filled in
Easily view overdue tasks and top priority tasks
Easily see complete and incomplete tasks together or separately if we wished
Drag and drop tasks in the list view into any field panel to quickly apply and fill in that field
Export tasks to Excel
Synchronize with Outlook to create tasks and notes directly from the mail client.
Edit tasks directly in the tree view
Easily add subtasks, for even better task planning and organization.
View all our tasks in calendar view, which gave us a great overview of how tasks were distributed over the month.
Best of all, the program allowed for online syncing using the Toodledo plugin, which meant that we could access the database of tasks from anywhere so long as we had internet access. However, since for the time being we did not require online access, we only needed to install another plugin known as Network Share, which allows us to connect to a single database in the office and make changes simultaneously.
The only cost incurred when using TaskUnifier was the purchase of the Network Share plugin, but at $3.99 per user license, we thought we found a great bargain! We immediately went to work migrating the tasks from other task management software we had been using, as well as those we had temporarily recorded in spreadsheets, email messages, Word documents, and work diaries (as well as on stray pieces of paper!) into TaskUnifier and began using it exclusively. So far, we have not found any cause to regret our decision.
Though TaskUnifier and other open-source programs may not be as good a fit for the needs of your company as they have been for us, they are often a good place to start when implementing new software in the office. In the case of commercial software, there are trial versions offered to help you acquaint yourself with their features and decide if you'd like to use them. We thought we'd share our experiences to help others with similar needs save time in their search for a task management solution.