Belize Internet & Digital Marketing
Digital Marketing Services
A beautiful website
without marketing and optimization
is like having a huge, eye-grabbing
billboard in the jungle.
No one will see it!
We're proud to offer exceptional digital marketing services that work to ensure your business gets the most from the web. All of our services have one main focus: to make you money. Whether it's by improving your rankings in organic search or helping you reach 10,000 followers on Facebook, we work hard so that your website is a powerful tool in generating leads, making conversions and increasing sales.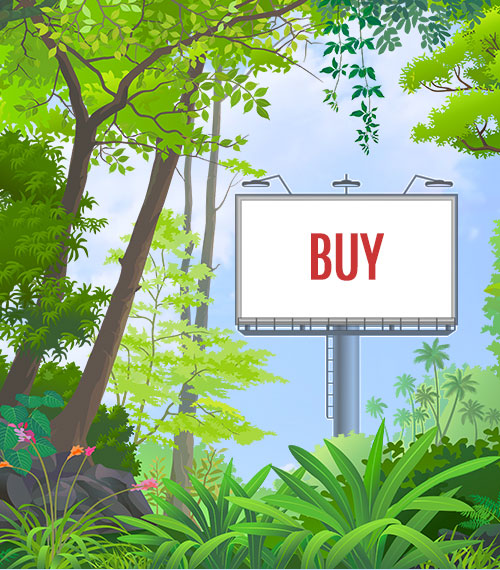 "75% of Internet users never scroll past the first page of search results"
MarketShare.com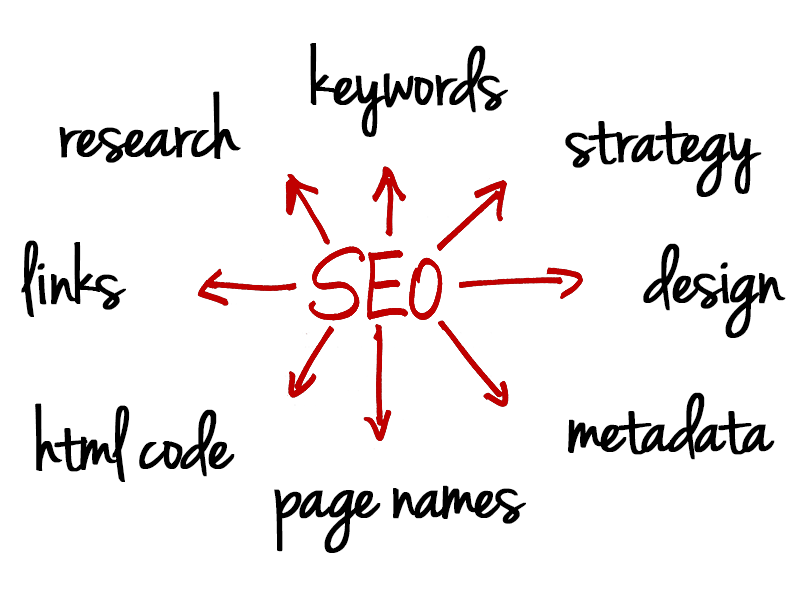 Search Engine Optimization
Ranking high on Google, Yahoo/Bing and other search engines is critical for attracting customers you want to visit your website. By using key words about your business — like "Belize resort," "Caribbean vacation," and "destination wedding" — we will optimize your website so that people looking for the services and products you offer will find your website at top of their search-results page. This is what good search engine optimization (SEO) does.
To properly optimize your site there are a series of key things that need to be implemented. These services are included in our Comprehensive Tourism Marketing Packages but are also offered separately. We guarantee upward ranking movement within 6 months and with our creative methods you can push your competitors lower and even off the top pages. Methods used include: keyword analysis, optimizing your text, pictures, links, and site structure to make it search engine friendly, creating links to your site, and submitting your site to social networking sites, directories, and search engines.
"The average traveler visits 22 travel related sites during 9.5 research sessions prior to booking."
Think Insights with Google, The Five Stages of Travel
Tourism Digital Marketing Packages
The Internet is the most prevalent tool used by travelers to make planning and booking decisions. If your business is not present on most, or even all, of the websites travelers search, you are losing out on potential business. Our expertise in online marketing and years of experience working with the tourism industry has led us to create comprehensive tourism marketing packages that are specifically designed to result in conversions and bookings.
Our tourism online marketing packages include everything you need to market your business on-line, including search engine optimization, all items listed below, and more.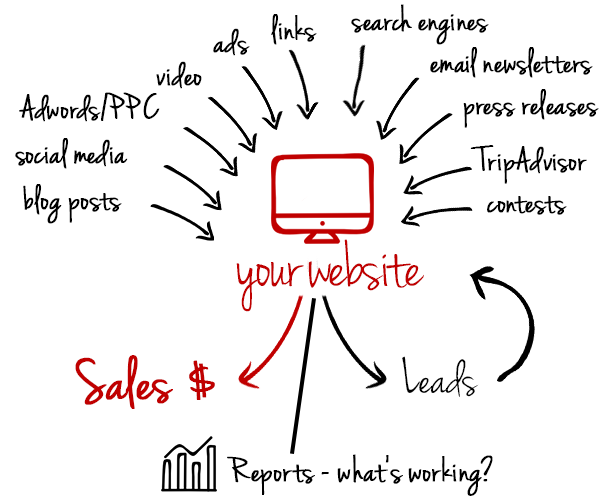 Primary Online Marketing Services
Included in our Digital Marketing Packages or ala carte
Social Media Marketing
As the role of social media increases as an influencer in decision making, we work closely with you to assure that your business effectively utilizes the social platforms that will reach the people who want to do business with you.
Email Marketing
We work with you to design branded emails and create campaigns that send a clear message and are results-oriented. We help you grow your mailing list and track the results of your campaigns.
Google Ads Marketing & Tracking
Google Ads (Pay Per Click) allows you to target specific audiences at specific times for immediate results. We are experienced in creating and tracking custom ad campaigns to meet your advertising goals.
Blog Creation & Optimization
Blogging is one of the most effective ways to improve SEO and social media marketing. We work with you to create a strategy and optimize your blogs. We can also write, post, or edit your posts depending on your needs.
Online Promotions
We work with you to find as many possible ways to promote your business as possible. Some examples are: ads on prominent websites; onsite and social media contests; directory listings; TripAdvisor; and pop-up specials.
Tracking & Monitor Results
To find out what's working and where to put your marketing dollars, you must track results. We use analytics and other software to carefully monitor and adjust your marketing efforts so you obtain the best results.
Some of the outstanding resorts we are proud to provide tourism marketing for:
Additional Services
Many of our clients need more than online services. Therefore, we have partnered with other professionals and services that we can recommend with confidence.
Consulting Services
One of the advantages of working with a Belizean company is that we are just a phone call or visit away. We are happy to help our clients with questions relating to online marketing and business in general, such as: What are good topics for blogs? Can you recommend other companies for various services? Can you help solve my email problems? Are these email offers I received legitimate? Can you help train my marketing staff? What other marketing avenues can I use to promote my business?, Should I use print ads? And just about any other business-related questions you may have…
Photography & Panoramas
Photos are the first thing people notice on a website, so they need to be fantastic! Photos are also one of the key factors leading to bookings. 360-degree panoramas give potential guests an immersive, interactive tour of your property, making them wish they were already there. We work closely with the premiere resort photographer in Belize and will be glad to send you work samples to help you get started.
Live Chat
Imagine being able to communicate with your costumers right at the point in which they are making a decision about whether or not to do business with you. With on-site live chat you can do just that. We use and recommend a chat system that can easily be implemented on your website and allows your reservation staff to see when someone comes on the site, what page they are on, and chat with them in real time.
Print Graphics, Video, Audio & Jingles
Designing for print takes careful planning and special considerations for the medium it will be printed on. We have been working with an established local company for many years and can coordinate with them for your print ads, business cards, brochures, video and audio production, and jingles.
Let's get started...
Tell us about your project