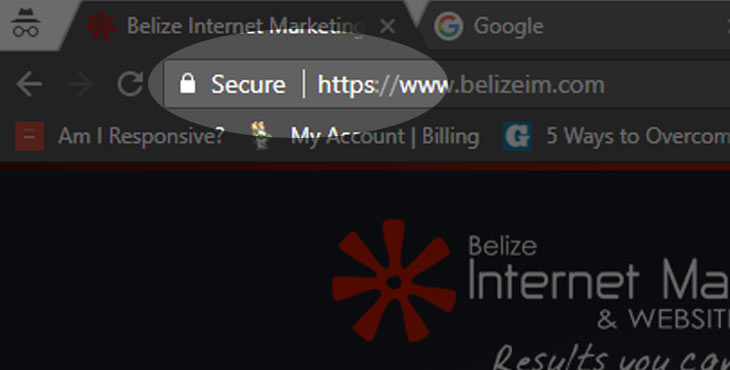 Moving Your Belize Website to HTTPS? Now May Be The Time If You Want Higher Rankings
Obtaining higher rankings is more and more difficult when considering any Belize related search terms since an increasing number of international and Belize sites are competing for the same terms.  Therefore, anything that can be done to help your site rank higher then your competitors can be important to your business or organization.  One factor to consider is encrypting your website using HTTPS – industry leading encryption that was once used primarily for sites handling sensitive information (like banking sites dealing with your finances) but is now being used by more and more standard sites.  In the travel industry sites like TripAdvisor recently went thought the process of using HTTPS for their entire site but sites in Belize like belize.com are starting to do the same thing.  So why are these, and other sites, making this more to HTTPS and how are HTTPS encryption and ranking related.
As you probably already guessed the use of HTTPS and rankings are related because of the direction that Google would like all sites to move into the future.  There are pros and cons of using HTTPS for a website but, from Google's perspective the advantages far outweigh any disadvantages as they stated in a blog on the subject of "HTTP as a ranking signal".  In short they state that security is a top priority for Google and that they believe that the use of HTTPS will make the web much safer – in fact they have called for "HTTPS everywhere" on the web.  They end by state how the use of HTTPS has and will likely affect rankings into the future:
"For these reasons, over the past few months we've been running tests taking into account whether sites use secure, encrypted connections as a signal in our search ranking algorithms. We've seen positive results, so we're starting to use HTTPS as a ranking signal. For now it's only a very lightweight signal — affecting fewer than 1% of global queries, and carrying less weight than other signals such as high-quality content — while we give webmasters time to switch to HTTPS. But over time, we may decide to strengthen it, because we'd like to encourage all website owners to switch from HTTP to HTTPS to keep everyone safe on the web."
So if you are looking for an edge in getting higher rankings consider moving your site to HTTPS…the reward in rankings are likely to only increase over time.