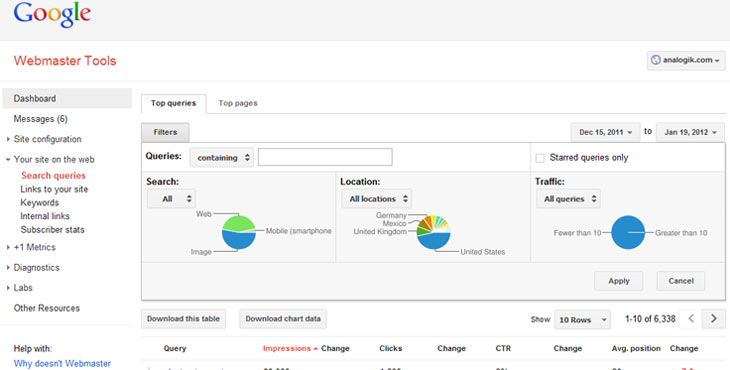 Google Analytics – How to Avoid Losing Profile Data Because of Accidental Deletion
Google Analytics is a free service that provides site usage statistics; it reports basic information such as visitor traffic and traffic sources, as well as more advanced data that includes audience demographics, search terms used to find a site, and contact form submissions. These statistics are extremely vital for measuring the success of your site-personalization and visitor-usability strategy. Therefore, it would be disastrous for any company if this data were to somehow be lost. However, if you were to do a search on the web on the issue of analytics data being lost, you would find that it is not uncommon for this data to be deleted simply by accident. It is important, then, for certain things to be put in place to avoid sustaining heavy losses when that data goes missing:
Create a Backup Profile:
In Analytics, there are three levels of settings for any site that is tracked with the program. There is the 'Account' level, the topmost, where you can add different domains and specify settings for each; there is the 'Property' Level, in which multiple web 'properties' belonging to one particular domain can be added and tracked separately. For instance, if you have a dedicated mobile site, you would track it as a separate property alongside your main property, so that the traffic to your mobile site and desktop version can be distinguished. Lastly, there is the 'Profile' level, which allows you to segment the traffic statistics to a particular web property using filters. For example, if you wish to see solely data from your Adwords campaign, you can add filters in the Profile that exclude other data. It is always a good idea to keep an unfiltered 'Backup' profile alongside your main profile. If your main, default profile is already unfiltered, then just having a copy of it running alongside wouldn't hurt; that way if your main profile is accidentally deleted, you will have identical historical data from the other.
Create a Google Webmaster account for your site and back up data periodically:
Google Webmaster provides data on the top search terms that send traffic to your site over a 3-month period. It's important to remember that Webmaster replaces this data every 3 months, so you'd need to archive it manually at 3-month intervals to somewhere you can easily access it. The easiest way would be to export the data to an Excel spreadsheet and backing it up somewhere safe. This is in the unfortunate event that you didn't have a backup profile, or if both profiles were somehow removed. The data provided by Webmaster on your site's top search terms, as well as landing pages, are what you'd mostly require anyhow to study the effectiveness of your site personalization strategy.
Link your Analytics and Adwords Accounts:
If you have a corresponding Adwords account with an active ad campaign, it's a very good idea to link it to Analytics. This will make your Adwords statistics visible within Analytics itself, under the 'Advertising' tab; this data will remain available even if you lose your main profile. Combined with the statistics provided by Webmaster, you may have enough historical data to assess how your site is doing and conduct further personalization.
As a Precaution, Never Be Quick to Delete Anything in Analytics:
Every now and again you'll have to create new profiles, web properties, and analytics accounts for sites. A good rule of thumb is, whenever you create something new, and you find afterwards that you don't need it, don't be quick to delete it. Take your time and be absolutely sure that what you are deleting is the right one, if you do have to delete at all. A good practice to help with this is making sure that every newly-created analytics account, property, and profile has a name that easily distinguishes it from those already there, or you may have a hard time distinguishing the new from the old, and the dispensable from the vital. Just remember, though, it's better to refrain from deleting at all – it's better to have extras that you don't need than lost data that you do need.
The thought of losing one's statistics isn't a happy one. However, with certain measures in place, the blowback of such a loss can be considerably lessened, if not altogether avoided. Thoughts and questions? Leave them in the comments section below!