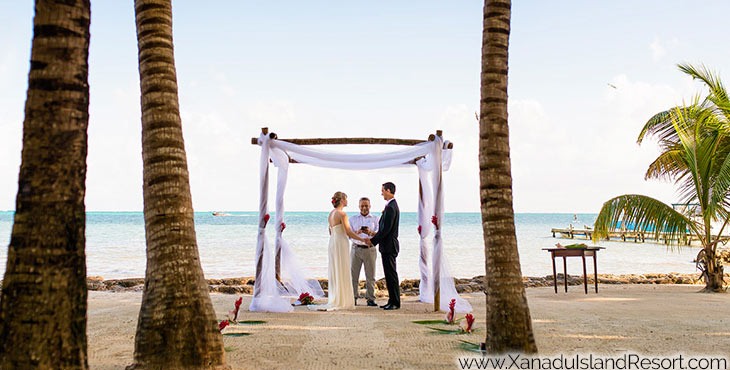 A Belize Destination Wedding – Your Dream Wedding Location
Noticeably, more couples are getting into the trend of having smaller weddings in exotic locations where they can also indulge in unique adventure tours. Resorts in countries like Belize have tapped into this market and become professionals at hosting affordable, memorable and stress-free destination weddings.
Couples will find having a destination wedding in Belize quite easy to organize. With this English-speaking country being only a short 2-hour flight away from many major US airports, getting here is a breeze. Moreover, there are several upscale Belize resorts that offer amazing wedding packages and take care of all the planning and arrangements at a reasonable price. All that's left is to make your guest list and choose whether you want an island, beach or jungle wedding.
BELIZE ISLAND WEDDINGS
It doesn't get more romantic than exchanging I Do's on an intimate tropical island. Imagine 360 views of the deep blue Caribbean Sea, lofty green coconut trees and pristine white sand beaches. There are two premier Belize island resorts offering all-inclusive wedding packages for a once in a lifetime destination wedding.
Hatchet Caye Resort
Ideal for a secluded island wedding, Ray Caye has a mile of private shoreline and a limited number of guests on the island at any time. Located off the coast of Placencia village, this charming private island resort has elegant oceanfront cabanas, a full-service restaurant & bar, a fresh water swimming pool and a luxury spa.
Ray Caye resort offers two all-inclusive wedding packages to accommodate your party size whether it is just 2 or up to 30 people. The knowledgeable staff handles everything from providing a Justice of the Peace to the groom's boutonniere. After the ceremony, explore the underwater life of Belize's Great Barrier reef on a snorkeling or diving adventure just minutes away from the island.
Xanadu Island Resort
Arguably one of the most popular wedding resorts on Ambergris Caye, Xanadu Island Resort is a unique eco-friendly resort holding the title for the first island certified Green Globe property in Belize. The resort has twenty private suites furnished to have a Belizean ambiance and boasting panoramic views of either the ocean, garden, or pool.
The tropical garden and white sand beach make a perfect setting for a destination wedding in Belize. Couples can choose to exchange vows on the pier or under the shade of a palapa. A wedding specialist works with you to ensure that everything from the flower arrangements to marriage registration is perfect and meets your expectations. Couples can even arrange a massage at an 'over the water' spa after their nuptial.
BELIZE BEACH WEDDINGS
Like the island, a coastal beach wedding is sure to add intimacy and allure to any ceremony with tantalizing views of the sunset over the azure Caribbean Sea. A southern Belize resort combines scenic views with a one-of-a-kind cultural experience to produce a wedding destination like no other.
Belizean Dreams Resort
True to its name, this Hopkins resort is modern elegance in one of Belize's oldest fishing villages. Guests can lounge around the infinity swimming pool or have a refreshing tropical cocktail at the beachfront tiki bar. The all-inclusive resort has 9 intimate stand-alone villas perfectly situated to take in the views of the beach and Caribbean Sea.
The most intriguing part of your wedding ceremony at Belizean Dreams Resort will be the hypnotic sounds of the local Garifuna drummers. The cultural entertainment is included in the all-inclusive wedding package along with an artisan cake, private beach location and complimentary champagne. Exciting adventure tours such as zip lining, diving and cave tubing are also easy to arrange prior to or after your Belizean dream wedding.
BELIZE JUNGLE WEDDINGS
Adventure and romance go hand in hand when exchanging vows under the lush canopy of the Belizean rainforest. Luxurious resorts nestled in a rustic setting allow you to be in sync with nature and provide multiple venue options for your destination wedding in Belize.
San Ignacio Resort Hotel
Sophistication and nature fuse beautifully at this exquisite resort in San Ignacio. Located just a few minutes away from town, the San Ignacio Resort Hotel offers a full-service steak house featuring meats from the family ranch. The resort is also home to an impressive Iguana Conservation project for the threatened Green Iguana.
The options available for hosting your Belize wedding ceremony and reception at this resort range from a banquet hall to poolside to a Mayan Ruin courtyard. The dedicated staff go above and beyond to transform any space you desire into an amazing and well-appointed wedding venue for each couple and their guests.
Whether it's just the two of you or a handful of guests, a Belize destination wedding combines your big day with romance, adventure and novelty. A Belize wedding resort make it easy and affordable for you to exchange vows and enjoy the natural wonders of the country. Whether you choose a venue on an island, on the coast or inland, there's no telling where your wedding ends and your honeymoon begins.